Well-known member
GENERAL OF THE ARMY
Joined

Jan 25, 2007
Messages

40,556
Recently all MSI Gaming, MPower and XPower class mainboards as well as MSI Gaming notebooks do come with Killer Lan or even Killer WLan. Many reports about issues related to the Killer NICs can be found and result in a lot of frustration for the users.
Actually these problems (bluescreens, lags, bandwith limitations, connection losses, blocking entire net communication even of non Killer devices) aren't caused by the Killer NIC itself but the Killer software suite (meanwhile called Qualcomm Atheros Performance Suite) which controls the networking.
Unfortunately Qualcomm Atheros (as well as the Killer software packages available on MSI sites) does not allow to just install the driver but forces to install the software to install the driver.
To fix all issues while keeping the NIC fully functional one should use pure drivers without the suite which are offered
>>here<<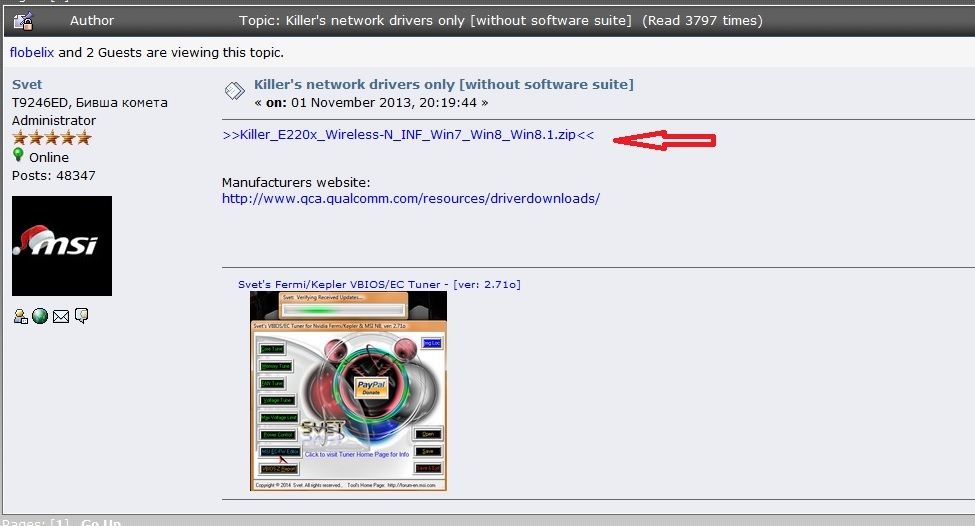 Download this and decompress the archive.
Now we need to get rid of the Suite. To do so we'll use the Killer Cleaner (
>>64bit<<
/
>>32bit<<
):
This will completely remove the Killer software including the driverwhich is safer than just uninstalling the software via Windows (which will still also remove the driver). As you will lose the ethernet connection you should have the driver downloaded above ready to install.
It doesn't come with an installer but you can just enter Windows device manager after a reboot and choose to update the driver for the unknown ethernet device listed there. Now just point to the driver directory and Windows will do the rest. Afterwards you have a perfectly working ethernet without any software fuss.
If you like the software you can still try updated versions on the
>>Qualcomm Atheros site<<
too and revert to the pure driver setup whenever the software proves to be unstable or not working with your setup.